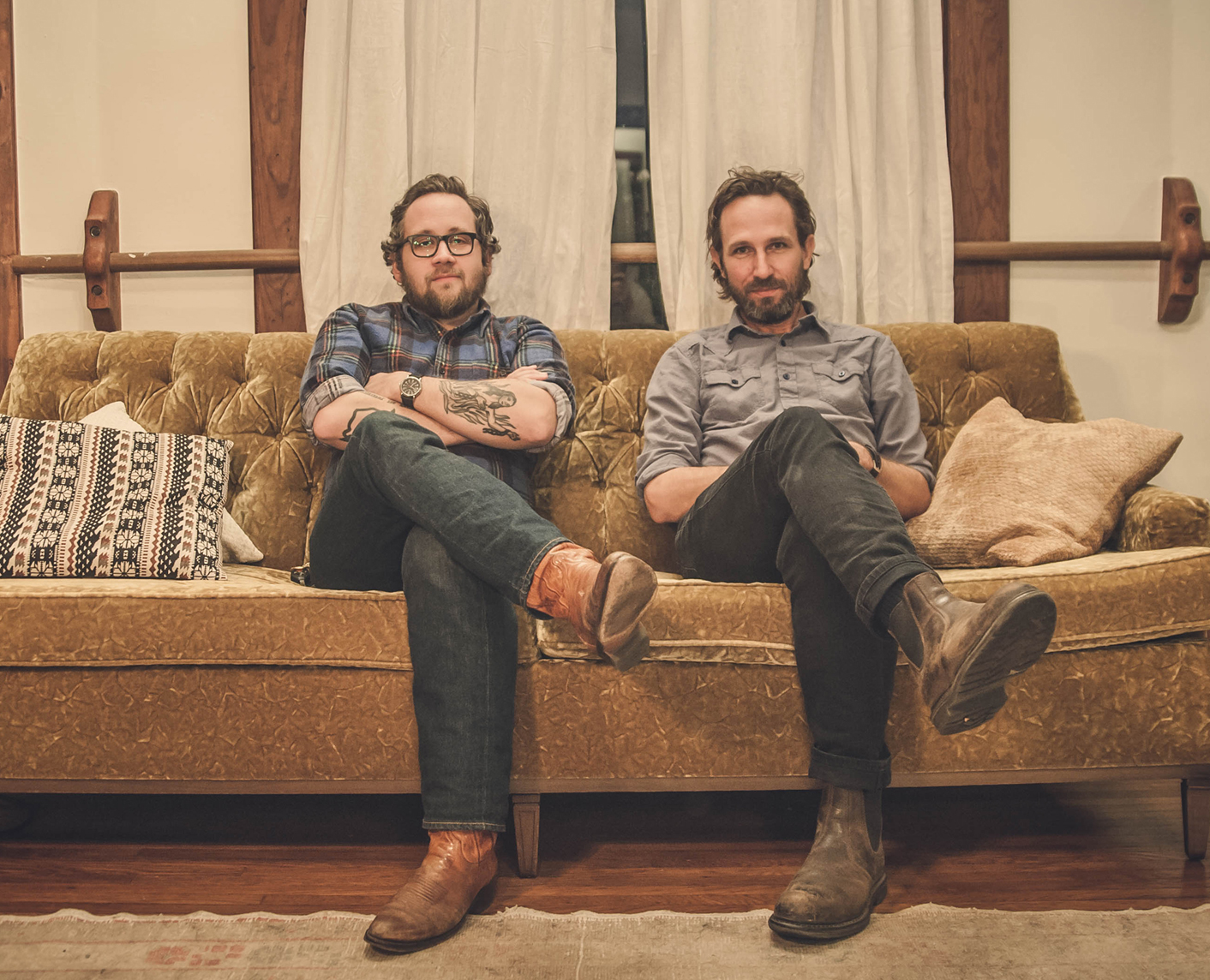 Marie/Lepanto
Tenkiller
(Big Legal Mess, January 26, 2018)
In the sunken lands of Arkansas along I-55, there's a road sign that directs you to a pair of tiny, hardscrabble towns in the Delta. It reads: Marie/Lepanto.
Situated roughly between Southeast Missouri and Western Arkansas — the two points where singer-songwriters Will Johnson and Justin Peter Kinkel-Schuster grew up — that dual appellation seemed a perfect handle for their new collaboration. It's especially fitting as their debut, Tenkiller, is an album permeated by a sense of place.
"I've seen that sign forever, and always had those words, Marie/Lepanto, in the back of my mind," says Kinkel-Schuster. "With it having the spatial/physical/psychological proximity to both of us, we figured there wouldn't be a better time to bring it into play."
For Johnson, the veteran singer-songwriter and longtime leader of Centro-matic, his union with Kinkel-Schuster, of Water Liars and Theodore, fits a pattern. In his work with South San Gabriel, Monsters of Folk, and Overseas, collaboration has long been the cornerstone of his creativity. Like his other endeavors, Marie/Lepanto was born out of a musical kinship and personal respect.
"I've been a huge fan of Will's writing and singing playing, admired him from a far for a number of years," says Kinkel-Schuster. That admiration grew closer and became mutual after Water Liars toured with Centro-matic during the band's farewell run in 2014. "Water Liars kinda became a soundtrack for me during that time," says Johnson.
A couple years later Johnson and Kinkel-Schuster decided to do a joint living room tour of the U.S. They were on the road a week together sharing stories and swapping favorite records. Musically, the duo's Venn diagram of influences included lost albums like Jim Sullivan's 1969 curio U.F.O. to the revered catalog of Minneapolis alt-rock scrappers The Replacements.
It wasn't long before the notion of a more serious collaboration was in the air. "I'd already secretly hatched this plan for us to make a record together," admits Kinkel-Schuster with a laugh. "The trust and respect between us had reached a level where it was kind of a no-brainer," notes Johnson.
The flashpoint came when the pair stopped in Memphis to see producer Jeff Powell (Big Star, The Afghan Whigs) and tour the famed Sam Phillips Recording studio. Powell had previously worked with Centro-matic and mixed Kinkel-Schuster's solo debut. After Powell casually suggested they all cut something at Phillips, "it became very obvious that this should be it," says Johnson, "that we should meet in Memphis and make a record together."
The Austin-based Johnson and the Arkansas-based Kinkel-Schuster did just that in the fall of 2016, traveling to the Bluff City to record with Powell, resulting in the 10-track Tenkiller. The intimate sessions found Johnson and Kinkel-Schuster sharing writing, playing and vocal duties, yielding an album that falls in the great tradition of indie rock team ups – from Nikki Sudden and Dave Kusworth to Vic Chesnutt and Lambchop, Peter Buck and Kevn Kinney to Kim Gordon and Lydia Lunch.
Nearly every aspect of Tenkiller seemed to be affected by that notion of place, starting with the studio itself. Opened in September 1960, Sam Phillips Recording is like some strange, magnificent dream: a mélange of jet-age technology, pyramid facades and pastel-colored walls, all sprung from its creator's fevered imagination.
"We were fascinated with the building, and when we walked into that room, it felt like we were projected back in 1960s," says Kinkel-Schuster. "Not much has changed in there since then, and that was very appealing to us. Not to mention the idea of working with Powell again."
The sessions began unencumbered by the weight expectation or agendas, but with a surfeit of material. "Usually, I'd try avoid coming into a situation like that armed with too much," says Johnson, "but with the two of us, the songs we were bringing in, it felt like they fit in a good way. The puzzle made sense."
Tenkiller evinces both the individual identity of its authors, as well as the alchemy of their union. The haunting harmonies of opener "Patient Man" ushers in an album of beautiful laments and finely-etched narratives. Offering a darker more austere vision of Americana, the record moves between the widescreen majesty of the waltzing "High Desert," the discordant guitar crunch of "Inverness" and the meditative melancholy of "Rest Be Mine" with a seamless grace.
A kind of emotional geography figures heavily in the record for Johnson, who visited Memphis regularly as a child growing up in nearby Kennett, Missouri. "Memphis was the closest city of any importance," he says. "Knowing I was coming back there, my old hometown started to creep into my psyche." The album's centerpiece, "Famished Raven," is a semi-autobiographical tale about the scales falling from Johnson's young eyes: "And as the night, it starts to chase you, always in silent ways you flee/Far from the cries all who need you, and who you need."
"My mother and I were on our own for a long time, then she remarried and I had two new, older step brothers and it changed my life," says Johnson. "Through them I learned about drugs and the challenges of adolescence, and even young adulthood. Some of the innocence of the time started to fade, and I tried to capture that with that song."
For Kinkel-Schuster the album's title track and closing number are also rooted in the real. "It comes from name of a lake in Oklahoma, not that far from where I grew up," he says. Its lyrics were spurred by his reading of Bury My Heart at Wounded Knee, Dee Brown's devastating account of the effects of westward advancement on native peoples: "Tenkiller, tenkiller…what else could they take?"
"It's about the way Native American culture was basically destroyed and appropriated by history and white people from the word go," he says. "I was trying to imagine what it's like to live with that as a reality."
Marie/Lepanto will be out in support of Tenkiller, beginning in early 2018, with Johnson and Kinkel-Schuster touring in a two-man configuration. "We'll start with just us and see who we pick up along the way," jokes Johnson.
"The truth," says Kinkel-Schuster, "is the sound we make is something unique, something that happens just between the two of us. That's what feels special about it and these songs."